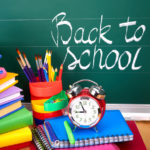 After the summer it can be a daunting task to get back to the homeschool regime. It would make your like a whole lot easier if you organized yourself and the homeschool supplies a few weeks ahead of this.Here's a simple guide to get you ready to home school after the summer vacation.
[am4show have='p8;p9;p11;p38;' guest_error='Guest error message' user_error='User error message' ]
Sort out what you already have into two piles
Before you step out and start buying new homeschool supplies take stock of what you have left over from the previous home school year. Make two piles as you empty your cupboards. The first pile is for the stuff that you are sure will come in handy in the next academic year. The second pile is for stuff that you are not sure you can use anymore. This would include stuff that is still brand new but that your children have outgrown. Get rid of any junk that you can not re-utilize. If it is in good condition give it away to a charity or offer it online to anyone on your homeschooling help forum.
Stock what you will be using in an easy to follow system
You can take all the things from the first pile and sort them out before you place them in storage. For instance you can group individual items together to make it easier to find something. Place all the coloring things like felt tip pens, markers, crayons, oil paints, poster colors, and water colors in one shelf. That way when you need to get anything related to colors you know where you will find it. You can organize all the other stuff in a similar and easy to follow manner. Tell your children how the cupboard is organized so that they too understand and follow the system when they take out or put back the homeschool supplies on their own.
Buy the rest of the homeschool supplies and store them
Now that you know what you have, you also know what you need. So get going on making the purchases that you need to. Once you have all the books and supplies that will be required for the next academic year of homeschooling again make use of the storage system. Store the supplies away in a manner that will make it easy for you to put your hands on the right item when you need it. Now you are ready to go back to homeschool.
Article Inspiration: About Homeschooling
[/am4show]