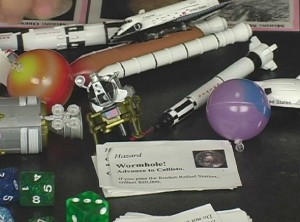 Kids love my new twist on the classic game of Monopoly. Besides being chocked full of real photographs of celestial objects, it's simple to set up and easy to play.
This game plays exactly the same as Monopoly, only there are comets instead of railroads, black holes and neutron stars instead of income tax, rocket repair stations instead of jail, community quasars, and much more!
My kids and I have played this game for hundreds and hundreds of hours using these simple templates that I've put together for you. The only additional items you will need to find are rocks and dice – which I assume you already have access to. Everything you need to create your own homemade version of this game is right here: Click to download the Space-opoly Templates
Please login or register to read the rest of this content.