A Year of Biology
Biology is the science that studies all living organisms. There are tons of different ways you can do if you're interested in biology at all, and quite of few of these overlap. We're going to cover quite areas of biology in this course, including zoology, biochemistry, molecular biology, ecology, botany, astrobiology and more. We are going to discover how to be a real biologist in the field as well as learn the big concepts in biology and how they tie into both physics and chemistry.
We'll also uncover a whole new world of amazing organisms as we learn how to use a microscope! Learn about magnification, optics, and compound microscope anatomy as you learn to prepare wet and dry mount specimens, perform staining techniques, and fire heat fixes. Even if you don't own a microscope, you can still join our class, we'll teach you how you can make a pocket microscope, live cell laser microscope and more!
This is a full year, self-paced Biology study program!
This course is meant to be a "go at your own pace" program. You may start the program at any time, and do the labs in any order that works best for you. I have a recommended sequence, but if you're excited about doing one area of biology, then go ahead! And if you want to study botany, but it's the dead of winter and no leaves in sight, wait until it's the right time of year and then continue your studies when it's appropriate. Make this program work for you and what you have available to you at different times of the year.
Some labs will require more time, like growing plants or a protozoa farm, and having a self-paced biology program will make it these labs a lot easier. You may also opt to skip labs that don't appeal to you (dissections, for example) and spend more time on the labs that really excite and interest you (carnivorous gardens maybe?). Either way, you set the pace and take your time really enjoying learning as you work through the program.
What age is the program for?
This program is available for all ages, all levels. Our programs are based on interest and ability more than age range, so if your student is excited to learn biology, there's no reason to wait... dive in now! Click the button to download your Biology Program packet and read over the introduction (pages 2 - 6) very carefully to get the most out of this program.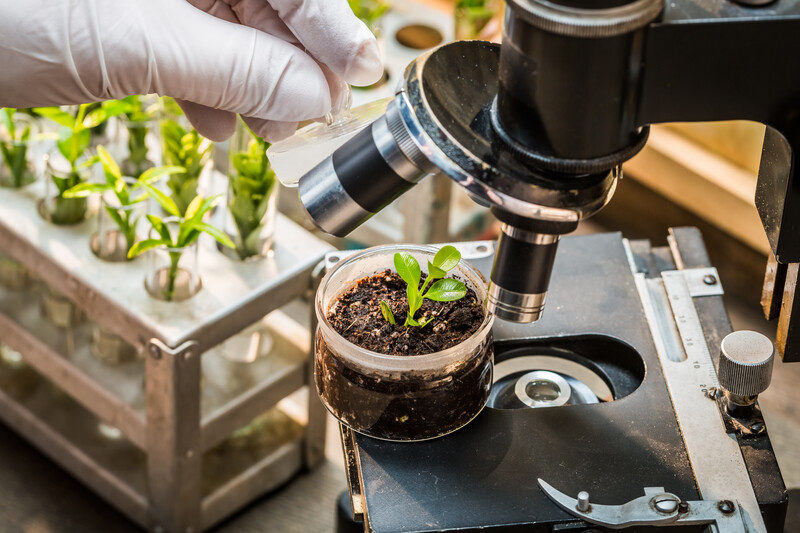 Next Live Class: Dec 7th
We will be sending out emails with the dates of our live classes and special bonus field trips along with links to connect to these special sessions each month. If you miss one of the live sessions, we'll post the recordings on this page (below). All sessions will be on Zoom (find link in email).
LIVE Microbiology and Microscopy with Oliver
Oliver is a real microbiologist who will be teaching several sessions on microscopy and microbiology in a fun, interactive hands-on class. No materials needed, however if you have a microscope (you can borrow one or use our recommendations), or if you have basic observing equipment like a handheld magnifier or USB digital microscope, bring it to class with you! At the very least, you'll need a notebook and a pencil to take a few notes as Oliver demonstrates different lab techniques and answers your biology questions live!
All classes on Zoom only
Session #1: September 14 at 12pm Pacific
Session #2: September 28 at 12pm Pacific
Session #3: October 12 at 12pm Pacific
Session #4: November 9 at 12pm Pacific
Session #5: December 7 at 12pm Pacific
Live Class Recording for Sept 14th
Join us and get introduced to the microscope with Oliver, our microbiologist! You don't need any materials, just join the class and let's explore how a microscope works and what it can do.
Live Class Recording for Sept 28th
Join us for this fun class where we learn how to look at potato cells, red onion cells, and a surprise that Oliver found in a swamp muck sample hidden in a corner of his lab.
Live Class Recording for Oct 12th
Join us for a fun Field Trip with microbiologist Oliver as we learn about skin cells, eyebrows, and fingerprints under the microscope!
Live Class Recording for Nov 9th
Join us for a fun Field Trip with microbiologist Oliver as we learn how to do top illumination techniques and find microorganisms in sediment and sand!
Bonus Content from Oliver

My name is Oliver and I have a University degree in research Microbiology/Molecular Biology. I work as a high school biology teacher, where I also instruct my students on how to use a microscope. I want to get those people who do not know much about Microscopy and/or Biology interested in this hobby. I want to give those who already have a microscope some motivation and observation ideas. Microscopy is a fun and fascinating hobby and I hope that I can share my enthusiasm with you.
10 Things I wish I knew when I started Microscopy
Microscopy is a great hobby, and not difficult to do, but I wish I knew some things when I started it. I hope you enjoy this and learn so you have an enjoyable experiencing looking and observing through your microscope.
Ten common mistakes when using a Microscope
Try to avoid these mistakes when using a microscope! We all make mistakes, and hopefully by learning about the most common mistakes, you'll understand more about how microscopes are meant to be used.