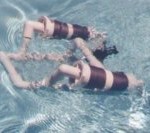 This project is for advanced students.
Up until 200 years ago, people thought the oceans were bottomless.  The diving bell was one of the first recorded attempts at undersea exploration, and was simply a five-foot inverted cup with viewing holes on a platform that lowered into the water, which allowed people to breathe the trapped air inside… until they ran out of air.  Leonardo da Vinci draw several sketches of underwater submersibles, and in the 1700s, John Lethbridge invented a long wooden cylinder with glass ends as one of the first diving units to reach 60 feet.
In 1930, two explorers used the bathysphere (a giant ball with windows) reached 1,428 feet below the surface, which was later followed by the bathyscape (deep diving vessel) that reached the deepest part of the Pacific Ocean, the Marianas Trench, at 35,800 feet in 1960.
The ROVs first made their appearance in the late 1960s, when military and offshore drilling required deeper dives.  In the late 1980s, scientists needed a way to explore the remains of the Titanic, and a lower-cost, lighter weight version design was developed. ROVs are designed to be remote extensions of the operator.
One of the biggest challenges with deep-diving underwater vessels is keeping the tremendous pressure from crumpling the frame.  The project we're going to design is meant for swimming pools and smaller lakes. When designing your underwater vehicle, you'll need to pay close attention to the finer details such as waterproofing the electrical motors and maintaining proper balance so that your robot doesn't flip over or swim in circles.
Learn about thruster motors, create the chassis, and build the controller for these super-popular underwater robots that really swim in water! A fantastic project for parents and kids to work together on. Your underwater robot will move in all six directions and utilizes a 12V power source.
[am4show have='p9;p47;p108;p103;' guest_error='Guest error message' user_error='User error message' ]
You are about to embark on the adventure of creating and operating your own ROV underwater robot.  As with all Supercharged Science educational items, we want kids to discover that science isn't in the special parts that come with a kit, but rather in the imagination and skill of the kid building it.  We strive to avoid parts that are specially made just for a kit, molded plastic pieces, etc. and instead use parts that any kid could buy from the store.  This means that kids can feel free to change things around, use their own ideas to add improvements and whatever else their imagination can come up with.  So on this note, let's get started.
WARNING: This project is intended for kids over age 12, and requires adult supervision.  Here are things to keep in mind:
The soldering iron reaches temperatures over 750○ F.  It can obviously cause severe burns and serious injury.  Always put it in the stand when not in use.  Don't look away while using it. Unplug it as soon as you're done and set it in a place to cool where it won't get knocked over.
Solder sometimes contains lead.  Just don't get it near your face and wash your hands when you're done touching it.  Plus, the usual warning that lead causes disease, it's toxic, don't feet it to you pets and keep it away from children.
The thruster motors in this kit are VERY powerful.  The propellers (when turning) will easily cut through skin and flesh if you touch them! (Don't be fooled because they're plastic).  NEVER touch them with anything when they are turning.  Treat them like you would a power saw.  Always disconnect power before working on them (short circuits can make them start unexpectedly).
PLEASE use common sense.  Think like a real scientist: If something seems like it might be dangerous, it probably is.  The real world doesn't have warnings on everything that could possibly hurt you.  I ask that you apply similar good judgment in using this kit.  If you're not sure, ASK for help.  Ask a parent. And parents, if you need help, email or call us.
Okay, I'm required to say this one: This kit contains small parts, plastic bags and other choking hazards.  Children under 3 years of age should not be allowed to touch it.  (Obviously this is true since it's meant for kids over 12.)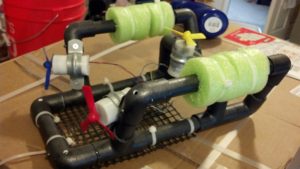 Materials:
The parts you'll need are as follows:
Glue & Fasteners
Superglue (0.5 oz. bottle or more)
Hot glue gun and extra glue sticks
Tube of silicone sealant or caulking
Petroleum jelly (Vaseline)
6 pcs. #6 x ½" stainless steel or brass sheet metal screws
6 pc. #6 stainless steel washers
10 pcs. 6" x 3/16" zip ties
Old newspapers to work on
Paper towels to clean up with
Frame Parts
 5 ft. of ½" schedule 40 PVC pipe (Have it cut into these pieces at the store)

6 pcs. 1.5″ long
8 pcs. 4″ long
2 pcs. 6.5″ long

10 pcs. ½" schedule 40 PVC 90-degree elbows
 4 pcs. ½" schedule 40 PVC tee's
 2 ft. of 2" schedule 40 PVC pipe (Have it cut into two 6″ pieces at the store)
 4 pcs. 2" schedule 40 PVC end caps
3 thruster housings (plastic vials like film canisters… something that the hobby motors can fit into snugly)
3 pieces of 1" metal semicircular conduit straps (w/2 screw holes. 1" conduit)
10" x 6.5" piece of plastic hardware cloth (1/4" squares) – it looks like a plastic mesh grid. If you have chicken wire on hand, then you can use that instead.
Electrical parts
3 thruster propellers (drill out with 3/32" holes) – boat propellers from a hobby store work great
3 DPDT center-off screw terminal switches
Electrical tape (good quality) OR 2 pcs. #31 wire nut connectors
30 ft. of "CAT-3" (or "CAT-5") telephone/network cable (8-conductor or 4-pair, AWG 24)
Rectangular project box  (Approx. 4" x 6" x 3")
12V Battery (two 6-volt lantern batteries, an old motorcycle or car battery or an "automotive jump starter" rechargeable power source)
Tools
Wire strippers
Long nose pliers
Soldering iron & stand with solder
An electric drill
Assorted drill bits (Specifically: 3/32", 1/8", 1/4")
Razor knife
Hack saw or PVC pipe cutter
Flathead screwdrivers
Scissors
#120 sandpaper
A ruler or measuring tape
Okay, so you're ready to go.  Oh, a couple of notes.  First, if your thruster housings are not snug enough in the pipe clamps, just wrap electrical tape around them a few times to add a little bit of extra thickness.  One other thing.  You may choose to solder alligator clips to your battery wires to make them easier to connect.  Just clip the alligator clip on something large to open its jaws, slip off the rubber part and solder your wire on.
Happy Exploring!
Learn how to turn this project into a winning Science Fair Project!
[/am4show]