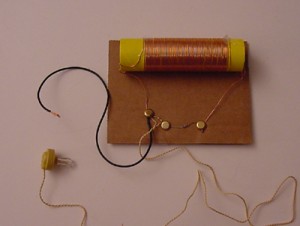 In addition to laser experiments, I thought you'd like to learn how to pick up sound that's traveling on a light wave. A crystal radio is among the simplest of radio receivers – there's no battery or power source, and nearly no moving parts. The source of power comes directly from the radio waves (which is a low-power, low frequency light wave) themselves.
The crystal radio turns the radio signal directly into a signal that the human ear can detect. Your crystal radio detects in the AM band that have been traveling from stations (transmitters) thousands of miles away. You've got all the basics for picking up AM radio stations using simple equipment from an electronics store. I'll show you how…
The radio is made up of a tuning coil (magnet wire wrapped around a toilet paper tube), a detector (germanium diode) and crystal earphones, and an antenna wire.
One of the biggest challenges with detecting low-power radio waves is that there is no amplifier on the radio to boost the signal strength. You'll soon figure out that you need to find the quietest spot in your house away from any transmitters (and loud noises) that might interfere with the reception when you build one of these.
One of things you'll have is to figure out the best antenna length to produce the clearest, strongest radio signal in your crystal radio. I'm going to walk you through making three different crystal radio designs.
You'll need to find these items below.
Toilet paper tube
Germanium diode: 1N34A
Scrap of cardboard
Brass fasteners (3-4)
Telephone handset or get a crystal earphone
Here's what you do:
Please
login
or
register
to read the rest of this content.