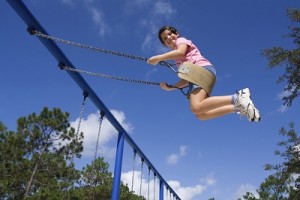 Now let's use the scientific method to discover a couple of things about pendulums. Before we start, I need to tell you two new terms. One is constant variable and the other is changing variable. A variable is a part of your experiment, like the coin in the Underwater Presidents experiment. If it is a constant variable, it stays the same for every trial of that experiment.
For example, we always used the same penny in the Underwater Presidents. Those variables never changed. A changing variable is what you change for each trial. It is often what you are testing for; "If I change this, what happens to that?"
For example, in the Underwater Presidents experiment, if we tried water in the dropper, then we tried vegetable oil, then corn syrup; the changing variable would be the liquid we are using in the droppers. When you do an experiment you have to try very hard to keep all variables constant except for the one you are testing for. If you don't keep all but one variable constant, you won't know why you are getting the results you're getting. If you change the size of the coin, and the type of liquid with the Underwater Presidents experiment, you will have a hard time knowing if it's the change of coin or the type of liquid that's causing more or fewer drops on the coin. Let's try the following experiment and see if this becomes clearer.
What you need:
String
Weight of some sort
Tape
Timer (or a watch with a second hand)
Please
login
or
register
to read the rest of this content.