Lie Detectors are electronic circuits that are able to measure your skin's resistance. When you sweat (or if your skin is wet), the resistance is different than if it's dry.
However since most people don't sweat when they lie, this type of detector isn't the most reliable type of detector around, but it's one of the simplest to create. We're going to build one from simple electronic components like resistors, capacitors, and transistors.
Our lie detector uses a speaker that changes pitch depending on the resistance of your skin – it's much more entertaining than blinking an LED on or off. You can think of this circuit as more of a skin humidity indicator. Are you ready?
Materials:
Breadboard (2″x3″, 400-hole)
Hookup wire (AWG 22g, solid), 6 feet
4.7K-ohm resistor
100K-ohm resistor
PN2222A or 2N3904 (NPN) transistor
2N3906 or 2N4403 (PNP) transistor
0.01 micro-f (μf) capacitor – Code on capacitor: 103
8-ohm speaker
9V battery snap and fresh 9V battery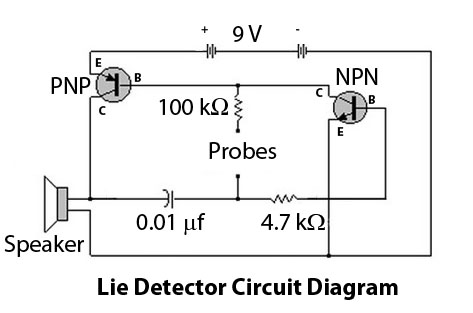 Please
login
or
register
to read the rest of this content.