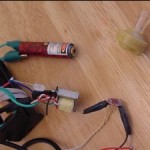 This experiment is for advanced students.Did you know that when you talk inside a house, the windows vibrate very slightly from your voice? If you stand outside the house and aim a laser beam at the window, you can pick up the vibrations in the window and actually hear the conversation inside the house.
Remember how windows split a laser beam in two from the Laser Basics experiment? That's the basic idea behind it. First, I'll show you how to build your own space-age laser communicator, then you can work on your spy device.
The first thing we're going to do is take the music from your stereo or MP3 player and transmit it on a laser beam to a detector on the other side. The detector has an earphone attached, so someone else can listen to the music from your laser. Weird, huh?
Here's how to build your own:
Please
login
or
register
to read the rest of this content.