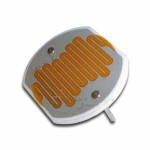 This is a super-cool and ultra-simple circuit experiment that shows you how a CdS (cadmium sulfide cell) works. A CdS cell is a special kind of resistor called a photoresistor, which is sensitive to light.
A resistor limits the amount of current (electricity) that flows through it, and since this one is light-sensitive, it will allow different amounts of current through depends on how much light it "sees".
Photoresistors are very inexpensive light detectors, and you'll find them in cameras, street lights, clock radios, robotics, and more. We're going to play with one and find out how to detect light using a simple series circuit.
Materials:
AA battery case with batteries
one CdS cell
three alligator wires
LED (any color and type)
Please
login
or
register
to read the rest of this content.