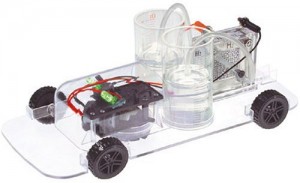 This project is for advanced students. We're going to build a car that runs entirely on sunlight and water.  Use energy from the sun, we'll first use a solar cell to convert sunlight into electricity.
Then we'll use that electricity to split the water molecule (H2O) into hydrogen and oxygen atoms and store them in separate tanks.
Lastly, we'll flip the system around to allow the hydrogen and oxygen gases to mix, which will produce the power to run the car and create an exhaust product that's just plain water.
How does that sound?
Please login or register to read the rest of this content.