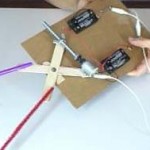 Are cookies out of reach in your house? When I was a small kid, the top of the refrigerator seemed MILES away… until I built a robot arm out of toothbrushes, popsicle sticks, and cardboard to reach it for me!
I've upgraded my old idea to include a motorized linear actuator so you can see how real robot engineers create linear motion (back and forth along a straight line) from a spinning motor. The motor AND nut both need to pivot for the claw to work, so take special note as to how the linear actuator (the scissors-looking thing) is built.
Please
login
or
register
to read the rest of this content.