When you think of slime, do you imagine slugs, snails, and puppy kisses? Or does the science fiction film The Blob come to mind? Any way you picture it, slime is definitely slippery, slithery, and just plain icky — and a perfect forum for learning real science.
But which ingredients work in making a truly slimy concoction, and why do they work? Let's take a closer look…
Imagine a plate of spaghetti. The noodles slide around and don't clump together, just like the long chains of molecules (called polymers) that make up slime. They slide around without getting tangled up. The pasta by itself (fresh from the boiling water) doesn't hold together until you put the sauce on. Slime works the same way. Long, spaghetti-like chains of molecules don't clump together until you add the sauce … until you add something to cross-link the molecule strands together.
The sodium-tetraborate-and-water mixture is the "spaghetti" (the long chain of molecules, also known as a polymer), and the "sauce" is the glue-water mixture (the cross-linking agent). You need both in order to create a slime worthy of Hollywood filmmakers.
[am4show have='p8;p9;p18;p45;p101;' guest_error='Guest error message' user_error='User error message' ]
Materials:
popsicle sticks
water
disposable cups
borax (laundry whitener)
clear glue (or glue gel) or white glue
yellow highlighter
measuring spoons
scissors
UV black light

Download Student Worksheet & Exercises
To make this slime, combine ½ cup of water with 1 teaspoon of sodium tetraborate (also known as 'Borax') in a cup and stir with a popsicle stick.
In another cup, mix equal parts white glue and water. Add a glob of the glue mixture to the sodium tetraborate mixture. Stir for a second with a popsicle stick, then quickly pull the putty out of the cup and play with it until it dries enough to bounce on the table (3 to 5 minutes). Pick up an imprint from a textured surface or print from a newspaper, bounce and watch it stick, snap it apart quickly and ooze it apart slowly …
To make glowing slime, add one simple ingredient to make your slime glow under a UV light (or in sunlight)! You'll need to extract the dye from the felt of a bright yellow highlighter pen and use the extract instead of water. (Simply cut open the pen and let water trickle over the felt into a cup: instant glow juice.) For the best slime results, substitute clear glue or glue gel for the white glue.
Don't forget: You'll need a long-wave UV source (also known as a "black light") to make it glow (fluorescent lights tend to work better than incandescent bulbs or LEDs) – check the shopping list for where to get one. This slime will glow faintly in sunlight, because you get long-wave UV light from the sun — it's just that you get all the other colors, too, making it hard to see the glow.
Is your slime a solid, a liquid, or a bubbly gas? The best slimes we've seen have all three states of matter simultaneously: solid chunks suspended in a liquidy form with gas bubbles trapped inside. Yeecccccch!!
What other stuff glows under a black light? Loads of stuff! There are a lot of everyday things that fluoresce (glow) when placed under a black light. Note that a black light emits high-energy UV light. You can't see this part of the spectrum (just as you can't see infrared light, found in the beam emitted from the remote control to the TV), which is why "black lights" were named that. Stuff glows because fluorescent objects absorb the UV light and then spit light back out almost instantaneously. Some of the energy gets lost during that process, which changes the wavelength of the light, which makes this light visible and causes the material to appear to glow. (More on this in Unit 9.)
How to Make Glow Juice
You can add glow juice in place of water in any experiment. Here's how you make the glow juice by itself:
Moon Blob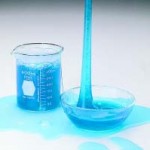 The most slippery substance on the planet, this dehydrated gel is a super-slippery, super long polymer chain of molecules that will actually climb up and out of your container if you don't use a lid.  This slime is sensitive to light, temperature, and concentration (the amount of water you use) so if yours isn't very responsive, check those three things.
Mixing this gel takes at least two days, and when you do it, make only a half recipe so you can make adjustments if yours isn't quite right. We use ours on 'Slip and Slides' instead of water for a super-fun ride! (Hint – don't try to stand, or you'll break your arm when you crash!)
[/am4show]