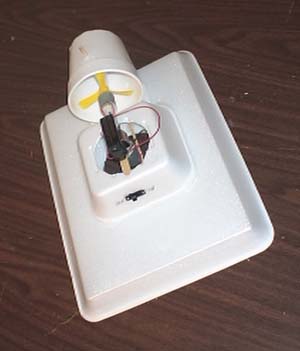 Hovercraft transport people and their stuff across ice, grass, swamp, water, and land. Also known as the Air Cushioned Vehicle (ACV), these machines use air to greatly reduce the sliding friction between the bottom of the vehicle (the skirt) and the ground. This is a great example of how lubrication works – most people think of oil as the only way to reduce sliding friction, but gases work well if done right.
In this case, the readily-available air is shoved downward by the hover motor and the skirt traps the air and keeps it inside, thus lifting the vehicle slightly. The thruster motor's job is to propel the craft forward. Most hovercraft use either two motors (one on each side) for steering, or just one with a rudder that can deflect the flow (as your project does).
The first hovercraft were thought about in the 1800s, but it wasn't until the 1950s that real ones were first tested. Today, the military use them for patrolling hard-to-drive areas, scientists use them for swamp research studies, and businesses use them to transport toys and food across rough and icy areas. Scientists are already planning future ACVs to use magnetic levitation in addition to the air power… but it's still on the drawing board.
Are you ready to make your own? We have TWO different models to choose from. Click this link for the Easy Balloon-Powered Model, or keep reading below for the advanced version.
Please login or register to read the rest of this content.