Most weather stations have anemometers to measure wind speed or wind pressure. The kind of anemometer we're going to make is the same one invented back in 1846 that measures wind speed. Most anemometers use three cups, which is not only more accurate but also responds to wind gusts more quickly than a four-cup model.
Some anemometers also have an aerovane attached, which enables scientists to get both speed and direction information. It looks like an airplane without wings – with a propeller at the front and a vane at the back.
Other amemometers don't have any moving parts – instead they measure the resistance of a very short, thin piece of tungsten wire. (Resistance is how much a substance resists the flow of electrical current. Copper has a low electrical resistance, whereas rubber has a very high resistance.) Resistance changes with the material's temperature, so the tungsten wire is heated and placed in the airflow. The wind flowing over the wire cools it down and increases the resistance of the wire, and scientists can figure out the wind speed.
[am4show have='p8;p9;p11;p38;p92;p71;p84;p100;p30;p57;' guest_error='Guest error message' user_error='User error message' ]
Scientists also use sonic anemometers, which use ultrasonic waves to detect wind speed. The great thing about sonic anemometers is that they can measure speed in all three directions, which is great for studying wind that is not all moving in the same direction (like gusts and hurricanes).
Sonic anemometers send a sound wave from one side to the other and measure the time it takes to travel. Which means that these can also be used as thermometers, as temperature will also change the speed of sound. Since there are no moving parts, you'll find these types of anemometers in harsh conditions, like on a buoy or in the desert, where salt disintegrates and dust gets in the way of the cup-style anemometer. The big drawback to sonic anemometers is water (like dew or rain): if the transducers get wet, it changes the speed of sound and gives an error in the reading.
The quickest anemometer to make is to attach the end of a string (about 12″ long) to a ping pong ball. Suspend the string in the wind, like from a fan or hair dryer (use the 'cool' setting). Since the ball is so lightweight, it's quite responsive to wind speed.
Add a protractor flipped upside down (so you can measure the angle of the string). Use the measurements below to figure out the wind speed. For example, mark the 90o angle with "0 mph". This is your ping pong ball at rest in no wind. Use the numbers below to make the rest: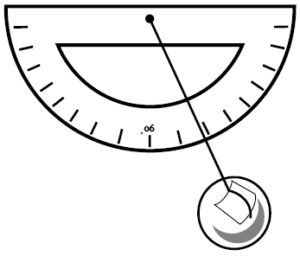 | | |
| --- | --- |
| Angle | Wind Speed |
| degrees | mph |
| 90 | 0 |
| 80 | 8 |
| 70 | 12 |
| 60 | 15 |
| 50 | 18 |
| 40 | 21 |
| 30 | 26 |
| 20 | 33 |
Now let's make a four-cup anemometer. Here's what you need to do:
Materials:
four lightweight cups
two sticks or popsicle sticks
tape or hot glue
tack or pin
pencil with eraser on top
block of foam (optional)

How steady was the wind that you measured? If you place your anemometer next to a door or a window, is there wind? How fast? Where could you place your anemometer so you can quickly read it each day?
By making two anemometers, one that you already know what the wind speed is, you can easily figure out how to calibrate the other. For example, how fast do the cups fly around when the ping pong ball anemometer indicates 12 mph? Can you see each cup, or are they a blur? You'll get a feel for how to read the four-cup model by eye once you've had practice.
[/am4show]