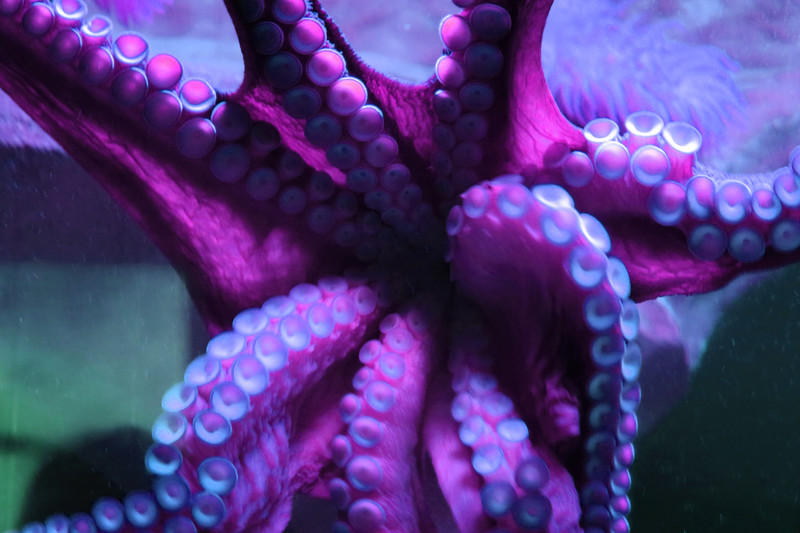 This lesson covers the wonderful world of spineless creatures—invertebrates. Invertebrates are animals without backbones. There are many different types of invertebrates: from starfish to bees to worms to sea angels!
Here are the different types we're going to learn about:
Sponges are colonies of specialized cells. They feed by filtering the water around them. They are bound to the ground beneath them. They have no nerves. They are held together through the cooperation of the colony.



There are two basic body forms of Cnidarians; polyp and medusa. All Cnidarians have stinging cells, called nematocysts. They all also have radial symmetry. Cnidarians are more developed than sponges; they have real tissues, a body cavity, and nerves.



Key physical differences between worms can depend on whether they possess a body cavity and/or segments. Flatworms have neither a body cavity nor segments. Roundworms only have a body cavity, and segmented worms have both a body cavity and segments. Some worms are parasitic (the tape-worm, for example) while others are not (like the sea flatworm).



Mollusks—including mussels, scallops, and oysters—live in shallow water. The mollusk body plan generally involves a muscular foot for locomotion, a body housing organs, a head with eyes or tentacles, and a mantle (which creates the shell). Usually, they absorb oxygen from the water using gills.



Echinoderms, meaning "spiny skin", are radial symmetric marine animals. They are found at all depths—both shallow and deep water. They play important roles in their ecosystems. Despite appearances, they do not have skeletons. The "spiny skin" is, in fact, skin covering a spiny endoskeleton (internal skeleton). They have water vascular systems.



Arthropods, or organisms in the phylum arthropoda, are organisms with segmented bodies and appendages on at least one segment. Arthropods are covered my hard external skeletons. When they grow they shed these skeletons in a process called molting.



For gas exchange aquatic arthropods have gills, while terrestrial (land-based) arthropods have either a tracheal systems or book lungs. Tracheal systems are air sacs fed by pores in the exoskeleton. Book lungs are gills modified to extract oxygen from air.



Insects are not only the most diverse subgroup of arthropods, but with over a million discovered species it is the most diverse group of animals on earth. Although they can't all be as beautiful as a butterfly, they all play important roles in their ecosystems—just think of where we would be without bees!



In biology we classify organism. By "classify" we mean that we place organisms into groups according to physical characteristics they have. These groups are hierarchical. The some groups fit inside others. We use the following groups to classify life: Kingdom, phyla, class, order, family, genus, and species. A good mnemonic for this hierarchy is Kings Play Cards On Funny Green Stools; each first letter stands for the first letter of a group in the hierarchy. We'll learn how to classify using this system.
---