Every student needs a teacher and now you've got one of the best anytime you need her!
"Finally! A simple, video-based sciencecurriculum online that teaches your kids step-by-step how to do real science… 100% Guaranteed!"
Now it's as simple as watching a video on your computer or iPad and you're on your way to learning real science that will prepare you for the real world…
Even if you don't have the time teach science yourself, and no matter what level you're currently at.

From: Aurora Lipper
Dear Friend,
If you're like me, at times the only way to something really "clicks" is when you actually see it done with your own eyes.
Think about one of the simplest tasks… like tying a shoe.
Of course, tying your shoes is simple for you now. You can probably even do it with your eyes closed. But at first, someone had to how you how to do it, right? And probably more than once. They took the time to show you how to make the bunny loops, cross them over, pull the knot, and double knot it.
Imagine trying to learn how to tie your show from an instruction manual, like the kind you get when putting together furniture. You know the kind I mean… with the small hardware packet and directions in ten languages in tiny printing?
Surprisingly enough, learning and doing science can be that easy… if you have someone there with you that has been through it and been successful at science. They can take you step by step through the entire process, right in front of your eyes as you watch and learn.
"Last year I bought your program…I finally looked at your program in greater depth….and "wow!!!" is all I can say. I told myself… maybe my son can have a friend over to learn with him. What a shame it would be to not share this program!, I told myself. Well one thing lead to another and we start our second week in Electricity with 10 students! They loved it and want more!!!! I've always liked science but this I love!!!! " ~Cindy Cotsiopoulos
It's not your fault…
If your students are not learning or enjoying science the way you know they could be, or if you haven't found the time it takes to really teach it to them the way you know it should be done, you're not alone. Don't blame yourself or your kids (if they hate science). Your kids probably just need a few key skills I can teach both of you, so you'll be up and running learning science and having a total blast while doing it.
Imagine how much faster it would be if you could just watch someone else doing science and presenting it to you in a way that really made sense to you?
Imagine the jump start on learning you'd get if you had a teacher right in front of you demonstrating a scientific idea by having you experience the way it shows up in the real world, instead of memorizing words from a textbook? You could start practicing being a real scientist doing their work in the field rather than a student coughing up the right answers for a test. Makes sense, right?
Introducing the e-Science Online Learning Program
It's not enough for me to tell you what to do, because you'll actually be shown using step-by-step videos on my "e-Science Online Learning Curriculum" subscription site.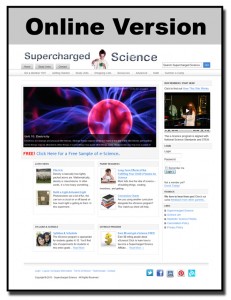 This site is jam-packed with hundreds and hundreds of videos, downloadable lesson plans, worksheets, exercises, quizzes, teacher resources, science fair projects, plus a place you can ask your science questions and get back answers. And you can take it with you anywhere. This monthly subscription site goes way beyond textbooks, beyond DVDs, or anything else before it!
Now you can watch right on your computer as a highly experienced science instructor, Aurora Lipper (me!), personally takes you through the exact scientific principles and experiments I teach my own students so your kids can excel at their own pace. This is the closest thing to having me in your class sitting next to your students at their desks.
My e-Science program is NOT just another science curriculum or textbook that sits on the shelf collecting dust. It's a thriving website with thousands of students, parents, teachers, and families just like you, helping each other grow by asking their questions and in the kids' experiment areas. Just sit back, relax and watch as right before your eyes every step of traditional science education as well as hands-on science projects, experiments, and activities is brought to life.
I've taken all my class videos on teaching students topics like energy, chemistry, electricity, magnetism, forces, sound, light, etc. and expanded them by adding hundreds and additional video experiments on multiple topics like alternative energy, thermodynamics, friction, electronics, robotics, circuits, and more to help you learn and grow from my simple and easy format so you can learn faster and easier than ever before!
"We are into our 2nd week of school and have done science most of those days. My 4 boys (ages 12, 10 and 8 years) are really loving it. What do I like best? Each of my boys can explain the why behind the experiments. My biggest thrill happened yesterday when we did the ping pong ball/funnel experiment. We did the experiment first before watching/listening to you. The boys expected the ball to hover just above the funnel as they blew – of course they were surprised when that didn't happen! What was my thrill? My 12yo explained the why perfectly! I thought that was so cool!" ~Z. B.
| | |
| --- | --- |
| | I found Supercharged Science a year ago. I liked the concepts and the experiments looked fantastic, but was a little hesitant about the price. WHAT WAS I THINKING? After mediocre experiments in other science programs, I finally 'gave in' and signed up for the e-Science summer camp so I could try it out. My kids love Supercharged science and I regret that I didn't start a year ago. |
Here's the deal:
This new breakthrough subscription website focuses on teaching kids real hands-on science contains so many experiment videos that I actually gave up trying to count them. It would take me days and days to total up the number of experiments and hours of video on this website.
Now before I go any further, I think it's important to set the record straight so that you can know whether or not I can really show you how your kids can learn real science, no matter what level they are at or how much they love or hate science already.
Frankly, it's not easy to know who to trust online because most people claiming to be "experts" don't have over a decade of teaching experience working with kids every day, or years teaching at the college level so they understand the bigger picture of what they have to prepare kids for when they teach at the K-12 level. They also don't have the experience of working in the field as a real scientist. Nowadays, anyone with a cell phone can throw a science video online and call it educational… even dangerous experiments I know I wouldn't want my kids playing around with.
Hmmmm….. I started out as the youngest instructor in the mechanical engineering department at Cal Poly State University at 22. I had already had three different engineering jobs in the field (two in research and one in a manufacturing plant), a math minor, and a BS in mechanical engineering. I was so excited to share what I knew about engineering with the students, but surprised at how disinterested they seemed to be in anything that didn't directly lead to a higher grade. In short, they were already burned out. I was curious about their previous education, so in addition to my university teaching load, I taught K-12 students with the goal of getting them exited enough about science so they could hit the ground running when they registered for college. Which means that I not only studied science but also
how
to teach it in a way that really sticks with the students long-term.
I now teach countless students because of my previous experience and by being curious about what motivates kids to want to learn. Make no mistake, it's only because of my success that people started seeking me out and asking for advice. And here's quick idea of just how much my advice is worth in the real world:watch and learn.
"On our first homeschool day of the New Year, I had planned to watch your teleclass on astronomy. When I announced that it was time to start watching, my youngest son immediately announced that he hated science and that he would just keep on drawing instead. I convinced him to give you a try so he sat down with us and started listening. It engaged both kids equally. They were excited by the content and answered loudly and with great enthusiasm every question you asked. In fact, when the class was over, they both wanted to another!" ~Annie
Here's a quick rundown of Aurora's track record:
Dozens of students have won first prize at the local and regional levels using my science experiments as the basis for their experiments.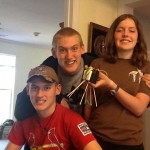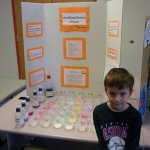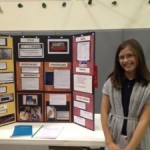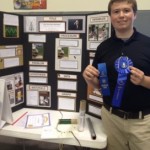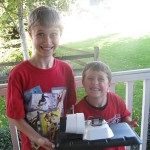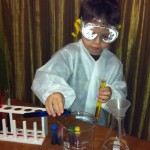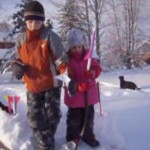 Aurora has taught tens of thousands of students that travel from all over the world to participate in her live and in-person science workshops for over a decade. Her workshops continually run and students keep coming back for more. She has traveled to dozens of conferences as a speaker and educator, helping other teachers and parents learn how they can improve their teaching methods to make a difference in their students' education.
Question: If you could hire Aurora to come into your home or studio and teach right at your desk, would you?
Of course you would! Well that is exactly what you get with this unique subscription based website filled with hundreds of video experiments, lesson plans, text downloads, and more. Just sign up for the e-Science program, turn up your speakers and watch, listen and learn as Aurora personally guides you step-by-step through the experiments, projects and activities. All the hassle and frustration will simply melt away as you become engaged and excited about doing real hands-on science.
Here's a sample of what you'll find in the e-Science program:
Videos of teaching real science to your kids, just like I do in an actual classroom
Text-book type reading to support the material in the videos
Hands-on activities and experiments, with videos that guide your kids through them. These activities and experiments are what really ignite a passion for science in most kids.
Homework exercises /quizzes so you can see what your kids are really learning.
A live tele-class every few weeks where you can connect with me personally
Parent resources for helping you give your kids the best science education they can get
A place to ask me questions (lots of them!)
Recordings of everything so your kids can do the program on whatever schedule AND at whatever pace suits them.
If you have been struggling to teach science, or find the time to do science at all, you can take your students' science education to the next level with this program. Here's a small sample of the content online that you can learn from inside the Member's Only section. Remember there are thousands of pages of pure educational content.
" My family thought I was weird for signing up for a "professional" science curriculum so young – wait until he's older, they said. I know my son, however, and this was the best thing I ever did for him and my house! Although he can't read the material, and even has a hard time understanding some of the information, he LOVES watching the videos and doing some of the experiments. So, if anyone out there wonders if there is a "too young" for this program, tell them NO! Even my 3-year-old likes to "help" with the experiments. Thank you for this wonderful website. My house may stay standing if my boys have something constructive to take apart! " ~Kate Pantinas
There's even an incredibly generous "Guarantee" you can count on.
My Unconditional Happiness Guarantee

Instead of me trying to explain to you how amazing this will be for your kids, it's probably easier for you to just try it out yourself and see what you think. So, I'm going to give you full access to the program with a full money-back guarantee. I know I like to try things out before I commit to them, so I'm offering you the same thing. You can access all the lessons for 30 days risk-free. If you like it, you can stay enrolled for only $37 per month (you can cancel any time). If it's not right for you, no problem.. simply drop me a note and ask for a refund. No hoops, no hassles, no questions asked.


My goal is for your kids to get an exceptional science education. If this program works well for you, then I'm glad to have the chance to share with your family.
Really, there's nothing left for me to say. This science curriculum is unlike anything else available for the price. Nowhere else will you find an experienced science instructor who will teach you exactly
what
to do and
how
to do it, no matter if you are a teacher or a student.
Don't you think you owe it to your students to give them the best quality education possible?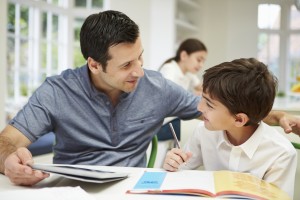 If you've read this far it means that you've got the desire and drive to have your students learn real science. I am totally committed to your success. All that's left now is to take action and make sure you're one of the people who actually turns their dreams into a wonderful, everyday reality.
In your opinion, do you feel it's important to use a science program designed by marketing experts or science experts? Have you ever been in a class where the teacher seemed to lack the background for the topic? What kind of impact did that make on you? How many programs have you used that gave you a similar kind of result? What kind of impact would that have on your child, long-term?
I can't convince you whether our program is right for you – you're the only one who can do that. You're also the one who knows who will miss out if you use a program you know to be second-best.
Isn't the real question here how can we handle the cost and give you more time to spend with your kids, less struggle with finding materials, and the peace of mind knowing that your child's education is taken care of so you don't have to worry anymore?
Your student will get a solid foundation to stand on when they reach for the next step further down the line in high school and college. Which really means that you can rest assured your child selects the best career fit for themselves in the future because they were exposed to a wide spectrum of science fields upstream. If you don't jump on this subscription site you won't be able to do something truly amazing in online learning:
watch a video on your computer, iphone or ipad, pause it, go do it yourself, and then come back to review any points you don't understand.
You must get signed up for your subscription now or you'll be stuck trying to learn it out of a book or worse, skipping it entirely because it's too overwhelming and you never made time for it… instead of effortlessly benefiting from the easy-to-understand, simple and effective teaching styles I use in EVERY one of the videos packed onto this site.
Think about it, you could keep stumbling and fumbling around trying to teach science yourself or you could get a proven coach to work for you.
PS – I remove any of the risk by offering you a 30-day money back guarantee!
Here's How To Order Right Now
| | |
| --- | --- |
| | Enroll my kids in the e-Science program! |
YES!

Aurora, I want in! Please enroll my kids in the online e-Science program I understand that during this test drive, I will get:

Enrollment in the full online e-Science program for 30 days. I understand that I will automatically be charged just $37 per month as long as I am enrolled (or $57 per month if I choose the advanced grade 5-8 & High School level program), unless I cancel during the first month. Of course I'm free to cancel at any time.

To get started, click on the happy orange button below.
For your own good, and before I decide to raise the price, get this now!
This total immersion program is the most effective way to master a subject. Most science, engineering, and technology fields have their roots in physical science, one of the biggest building blocks in the science field. There are eighteen scientific principles, ten of which your child needs to know by the time they hit college. This program is built on these ten scientific principles kids need to not only know, but work with and understand. Once kids have wrapped their heads around these ideas, they can explain why airplanes fly, how electricity works, and why socks disappear in the dryer.
Don't wait another minute! Sincerely, Aurora Lipper P.S.
Stop banging your head against a wall guessing how to teach science in a way that kids understand and are excited about…
watch, listen and LEARN as an expert (me!) uses multiple experiments on video to walk you step-by-step through the entire learning process.