"I just wanted to say thanks for making science my son's favorite part of the day. He entered a science fair and one of the adults present was a scientist for Sandia Labs. She asked several questions regarding his project and he had the answers. He really understood the material. He talked about exothermic and endothermic changes he'd recorded on his data sheets, etc..."She was quite impressed and told him that she hoped he continued, to which he replied "That's the plan, I intend to be a scientist on a space mission someday"."Thanks again for making my life so much easier when it comes to science and giving my son the education that just wouldn't be possible if I was left to my own devices!!"

~Shari Linsley, Homeschool Parent

Questions?
Activities, Experiments, Projects
With over 900 science activities, experiments and projects spanning pre-kindergarten to high school, thousands of pages of lesson plans, data lab sheets, quizzes, exercises, and reading material, and an unlimited number of questions kids can ask, your children always have something new and exciting to learn from on the e-Science program! You'll find real videos of real scientists in action, taking you step-by-step through the entire learning process. You won't believe how much kids can have while learning science.
Science Can Be Fun
Piles of textbooks, stacks of worksheets—no wonder kids get frustrated studying science. They'd rather be playing with the experiments and figuring out what happens next, so let them! They'll be inventing their own robots that really work, laser light shows out of your shoeboxes, blasting rockets over the roof, and, best of all, they'll be learning. (Shhh, don't tell!)
Supercharge Your Child's Education
They will not only excel in science education, but have an extraordinary foundation to stand on when they hit college. Start your children on the road to success and help them become more confident students. You'll appreciate that Supercharged Science helps you track your children's progress through their science journals so you can keep up with them every step of the way. Watch and be amazed as they master new science topics and become proficient in essential skills.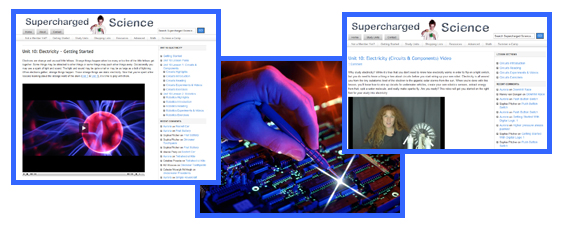 Since every child learns in their own way, it's silly to try to make "one size fit all". We create an educational experience that is one-of-a-kind and therefore remarkably effective in educating your students, as it's individualized to meet each child's needs.
Membership benefits:
Videos of teaching real science to your kids, just like I do in an actual classroom
Text-book type reading to support the material in the videos
Hands-on activities and experiments, with videos that guide your kids through them. These activities and experiments are what really ignite a passion for science in most kids.
Homework exercises/quizzes so you can see what your kids are really learning, and tips for how to keep track of your progress in a real a science journal
A live science class in difference science areas every few weeks where you can connect with me personally
Parent resources for helping you give your kids the best science education they can get
A place to ask me questions (lots of them!)
Recordings of everything so your kids can do the program on whatever schedule AND at whatever pace suits them.
Questions?
Send us an e-mail at
[email protected]
Ready to join?
Choose the membership
that's right for you.