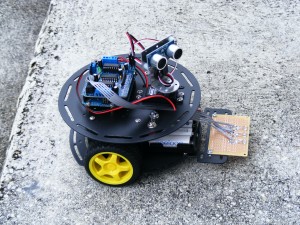 An "Arduino" is a micro-controller that really makes robotics a lot easier and fun to create. First designed in 2005 by an Italian company, these single boards were originally intended for students learning robotics.
The board consists of standardized connectors, which allow a whole host of interchangeable add-on modules (shields) to be used. It's like the brains of a computer that you can add inputs (like sensors) and outputs connections (like motors) to.
Arduinos are not limited to student robotics. In fact, you'll find them anywhere there's automation, from telescope observatories to weather stations to smart home functions.
We're going to learn how to transform an inexpensive Arduino board into a fully functioning autonomous robot with sensors, just like the one in the image above. This will take several steps, so watch the videos in order so you don't miss a thing.
[am4show have='p9;p51;p108;p103;' guest_error='Guest error message' user_error='User error message' ]
In this video, we'll go over what will be covered during the various 2 wheel robot build, the tools you'll need to complete the build, and other important information.
To begin with, we'll build the motor shield for the robot. Next, we'll build the chassis for the robot and install the Arduino and the motor shield. Then, we'll build the line sensor and install it into the robot. At this point we'll install the Arduino IDE and begin testing the robots motors and the line sensor. And finally, we'll build the PING sensor, install it into the robot, and then test the servo motor and the PING sensor to make sure they are working as they should.
To complete the robot build you'll need the following tools (if you've completed other projects from Unit 14, you'll probably have most of these already):
2 Wheeled Arduino Robot Kit. Originally this was able to be purchased from MAKE, but unfortunately, it seems to be no longer available. Here is the parts list of the components you will need to create your own kit. You'll want to review the videos in detail first to get familiar with the parts you'll need.
Here are the alternate links to get the most important parts:
Tools:
Phillips Screwdriver
Wire Cutter
Wire stripper
Small pair of pliers
Soldering Iron
Solder
Digital multimeter
And possibly a drill and a 1/4th inch drill bit. I had to use a drill to make one hole on the chassis larger, you may need to do this as well.
You'll need to get a micro B USB cable to connect the Arduino to the your computer.
I also want to point out a few things before we get started:
During the motor shield build, be sure to save the excess leads that you cut off. We'll be using those during the line sensor build. ([Note: the kit is no longer available, so you will not be building the Motor Shield, but rather purchasing one presoldered.]
You may also need to get some additional straight pin strip header. Look for 0.100 inch or 2.54 mm.
Let's get started!
[/am4show]